PORCHETTA
Roast Suckling Pig
1 suckling pig, 18-22 lbs.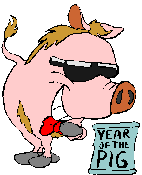 4 cloves garlic
olive oil
2 tbs. white wine
coriander
wild fennel seeds
nutmeg
4 sprigs rosemary
peperoncino
salt
pepper
Chop and sauté the piglet's liver, heart and kidney in 2 tbs. of olive oil. When hot, add the white wine, reduce and remove from heat. The piglet is seasoned with its own liver, heart and kidneys, plus wild fennel seeds, rosemary, salt, pepper, a fair amount of garlic, coriander, nutmeg, and peperoncino. It is then rolled up like a large sausage, securely tied with colorless thread and roasted whole on a spit over charcoal made from aromatic wood for about 4 hours. Cooking time varies according to the piglet's size. The piglet should be basted frequently with a rosemary sprig dipped in oil and with white or red wine.
The juice and fat that collects in the drip pan (leccarda) can be used to cook potatoes and onions, which may be served together with the porchetta. Porchetta can also be roasted in the oven.
Note:
Porchetta is always boned to make it easier to serve and eat