Patate e Baccalà
Potatoes and Baccalà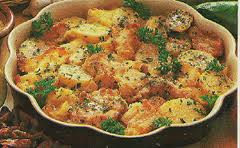 Potatoes and Baccalà, or Patate e Baccalà: Baccalà is salt cod sold by the slab,and it used to be one of the most common Friday meals inland, where obtaining fresh fish was a problem. Potatoes do an excellent job of supporting it in this recipe, which has a Sicilian feel to it, and will serve 4:
Ingredients:
4 medium-sized potatoes
1 1/3 pounds (600 g) baccalà
A peeled carrot, a stick of celery, and a small peeled onion
A small bunch of parsley, minced
2 cloves garlic, minced
Black olives (sweet)
Pine nuts
Diced fresh tomato
trips of lemon zest, yellow part only, cut up
Salt & pepper
Olive oil
Preparation:
Put the carrot, celery and onion in a pot of water and bring it to a boil. When it begins to boil gently immerse the pieces of baccalà and cook them for 5-7 minutes. Drain them well, remove the skin, and remove the spines.

While the water is heating, preheat your oven to 380 F (190 C).

Peel the potatoes, dice them, and put them in an oven dish with the garlic; drizzle them with olive oil and roast them for about a half hour. While the potatoes are cooking, combine the remaining ingredients (including some more olive oil) to make a sauce. Remove the potatoes from the oven, lay the skinned, boned baccalà over them, drizzle the sauce over the fish, check seasoning, and return the dish to the oven for another 10-15 minutes.