Amatriciana Sauce
Serve this smoky seasoned tomato pasta sauce over spaghetti or other pasta.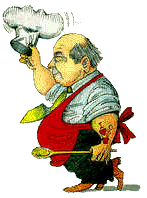 1/3 cup olive oil

4 onions -- coarsely chopped

8 ounces Canadian bacon , sliced -- cut into 3/4" square

or sliced smoked ham

4 cloves garlic -- crushed

2 cans, large plum tomatoes , in juice -- 35 oz. each can (4 cups tomatoes)

2 teaspoons sugar

3/4 cup dry red wine

salt and freshly ground black pepper -- to taste
Heat oil in a medium size heavy saucepan over medium-high heat. Add the onions, and saute for 10 minutes.
Stir in the bacon and garlic, and saute for 5 minutes more.
Stir in the tomatoes, sugar and wine. Season to taste with salt and pepper. Simmer, uncovered, for 45 minutes, stirring occasionally.
Serving Ideas : Serve over vermicelli or spaghetti, with grated Romano.