The combination of biscuits soaked in coffee and soft mascarpone cream creates an unbeatable contrast of flavors and textures. The original recipe for tiramisu truly has no equal and continues to be one of the most popular both at homes and when eating out. While everybody has their own special recipe, we have opted for the classic one made with savoiardi biscuits, mascarpone, eggs and coffee.

INGREDIENTS: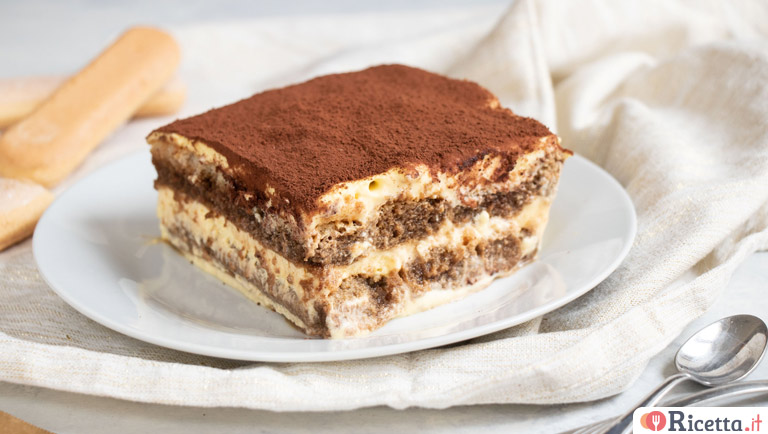 (for 6 people)
4 egg yolks
2 egg whites
150 g sugar
400 g mascarpone
approx.150 g ladyfingers
6 cups of coffee
2 tablespoons of dry Marsala wine
1 teaspoon of bitter cocoa


PREPARATION:

Prepare the coffee: use a moka pot to make the coffee (or order 6 espressos from a cafe).

Prepare the cream: place the egg yolk and sugar in a bowl and mix them thoroughly with a whisk until you have a pale, puffed up and frothy mixture. Add the Marsala wine and mascarpone.

Add the egg whites: whip the egg whites until stiff – beat them with a whisk until they are white and fluffy, with a compact consistency. Gently mix the eggs in with the cream using a top-down motion.

Make the tiramisu: drench the savoiardi with the coffee and place one layer on the bottom of a rectangular dish. Cover it with ¼ of the cream and then continue as follows: one layer of ladyfingers and one of cream, finishing with the cream on top.

Decorate the dessert: sprinkle the surface with cocoa, seal the dish with cling film and place the dessert in the fridge for several hours before serving.


You can serve the tiramisu 'a mattonella', serving slices of the dessert directly on plates, or you can also choose to make lots of smaller single servings 'al cucchiao', alternating the layers of cream and biscuits in glasses. Whichever method you choose, it's sure to be a success!